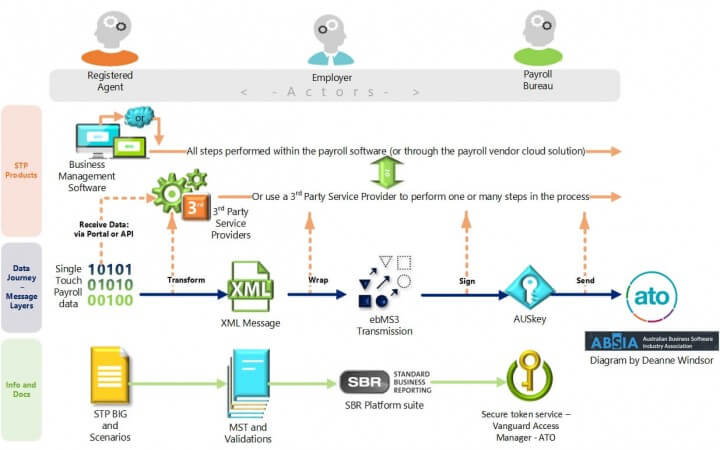 Single Touch Payroll data journey from payroll to the ATO
ATO Single Touch Payroll Products
Please access the ATO's Single Touch Payroll (STP) product register here.

Details are as follows:
Developing for Single Touch Payroll
Payroll software providers who have the intention of delivering Single Touch Payroll enabled solutions. As per the above illustration, all steps in the data journey may be performed within the payroll software itself (or their cloud), or by a 3rd party service provider.


STP Payroll Event - Version PAYEVNT.0002.2017 (now deprecated) and Version PAYEVNT.0003.2018 (current)
Digital service providers (payroll software vendors or 3rd party solution providers) who have been ATO-certified (whitelisted) for the Single Touch Payroll - Payroll Event services: submit and update. There are two supported versions:
PAYEVNT.0002.2017 - these are the early adopters for STP. Those DSPs whitelisted for this service can continue to support employers to deploy it into production. However, no new DSP whitelistings in this version are possible since the release of the current version.
PAYEVNT.0003.2018 - this is the current version of STP.
These digital service providers offer services to report salary and wages, pay as you go withholding and super information to the ATO to meet obligations under the Budget Savings (Omnibus) Act 2016.


STP - Third Party Solution Providers
The data submission from payroll software to the ATO does not have to be delivered from within the payroll software itself, but may use third party service providers to perform key steps in the process. These data service steps, as illustrated in the diagram at the top of the page, include, but are not limited to:
receiving the data from payroll software, via portal or APIs (machine to machine);
transforming the data into the required format;
wrapping the message for transmission to the ATO;
signing the message using AUSkey; and
sending the message to the ATO.